Pricing Information
Pick your price, package or options.
How Much Will It Cost?
Your business deserves a professional, user-friendly website with current information. Prices for this can vary greatly based on the size of your site, plus the functionality and extras you desire. This really is one of those times where you get what you pay for.
I have a number of packages detailed below, offering different levels of customization and "cool factor". Each has a button that allows you to see an example page, so you can compare and evaluate your options. This allows you to pick the package and look that fits your own preferences, requirements and budget.
Are you a non-profit, community league or special interest group? I do offer special pricing to groups such as these, so please contact me directly and we can discuss your project.
Don't see exactly what you want? Or need to trim the cost a little? Just talk to me about what you want from your website, and the budget you feel comfortable dedicating to the project, and I will let you know if I can work within your budget to make that happen. No harm in asking, right? Contact me and let's chat.
HYBRID PACKAGE
I can add/remove design elements from any package to achieve the look, function and level of interactivity that you want for your site. Is Lion too much, but Lynx not quite what you wanted? No problem.
Just contact me and we can discuss your options, then I will put together a custom quote just for you!
Depends :)
HOSTING
I provide web and email hosting for many of my clients. The benefit of this is that you have a single point of contact for any issue with your website.
My hosting package includes a few updates to the website content each month. You email me your news items, program changes or text edits, and I take care of it all for you.
$250 / year
SITE ADMINISTRATION
Keeping your web content fresh and up to date not only helps keep your visitors engaged, it can also help improve your search engine rankings.
$40 - $50 / hr
GRAPHIC DESIGN
Need business cards, promotional materials, banners, ads or signage designed to match or compliment the look of your website? I would be happy to help.
$40 / hr
Fees and Payments
I accept cheques, as well as electronic payments via Paypal and Interac e-transfers, and request a 50% deposit at the start of your project. The remainder is due once you have approved your design and development begins.
All charges will be clearly identified, discussed and agreed upon before work on your project starts, so you will never be charged hidden or unexpected fees.
My Mission
To provide exceptional support, as I combine your requirements with my creative techniques, to bring your project to life ...
... with the minimum amount of stress for you.
(I'm the human. You're the cat.)
CONTACT ME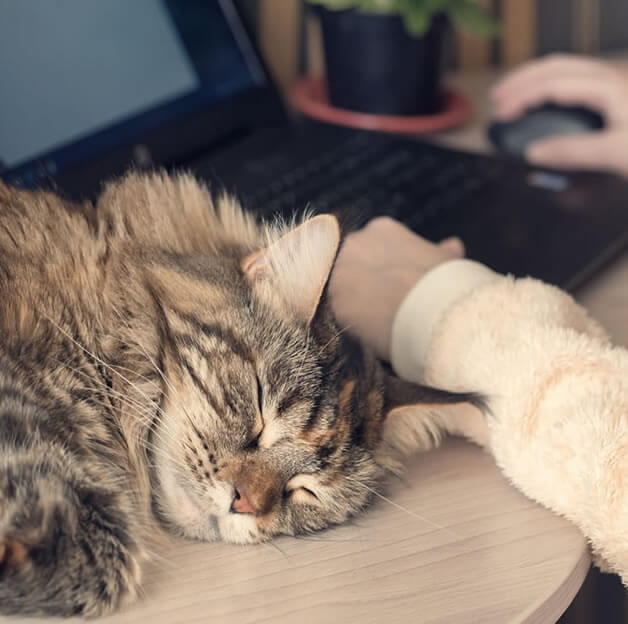 Send Me a Message
I'd love to hear from you! If you have any questions or would like a second opinion, please don't hesitate to get in touch.