My Design Services
How I Can Help
What Do I Do?
Affordable Design, Development and Support
My full suite of services means that you have a single point of contact for all your hosting, web development and graphic design needs.
Responsive Design
What is Responsive Design? It means that I build your website so it looks fantastic on everything from a large computer monitor to a laptop, tablet or small mobile phone.
Prompt Development
Updating to a new website can be exciting, and nobody wants to wait to show the world their cool new look or content, so let's not wait. If you're ready, just say the word and we can get started!
Exceptional Support
Keeping your website fresh and current takes a lot of work. My goal is to take that work off your plate. Just let me know what you would like changed or edited, and I'll take care of the rest.
WEB DESIGN
Creating a website is very similar to creating a piece of art - everyone has different tastes, preferences and styles. When I design your website, I work with you to discover a look that will make your website a unique but accurate reflection of you and your business.
I prefer not to use pre-existing templates, but instead create each design specifically for you, so that you can be proud to display your finished site to the world.
WEBSITE DEVELOPMENT
Web standards are constantly changing, as are the devices on which we all surf the Internet. Over the last 14 years, I have gained extensive experience developing e-commerce enabled sites, as well as current knowledge working with responsive mobile design and development platforms like Bootstrap, Joomla, Wordpress, Shopify.
Let me build your organization the site you need to make your business grow, in a way that looks fantastic, operates flawlessly and supports all the current technologies.
ONGOING MAINTENANCE
Once your site is online, it will inevitably need to be updated to keep your content fresh and your information current. Website management by a third party can substantially reduce your costs by eliminating the need to hire full time web design professionals or content programmers.
That is where I come in - providing personal attention and professional courtesy ... and an affordable solution to your ongoing website management dilemma.
WEB & EMAIL HOSTING
When considering a new or updated web site, many businesses are faced with the question of where to host their site. With a huge variety of vendors, plans and options, plus questions regarding each vendor's level of service ... it can all be a little overwhelming.
For that reason, I am pleased to offer my clients a professional, affordable and reliable hosting package, should they require a hosting services for their new or existing web site. This benefit can be bundled with my other services, or individually to suit your unique requirements.
SEARCH ENGINE OPTIMIZATION
Search Engine Optimization, or SEO, is comprised of a number of best practices, some research and investigation, content analysis ... and, frankly, a little trial and error. Ideally, all of this comes together to improve where your site ranks in organic search results - which means more people see your site.
If you are looking to improve where your site ranks on Google, increase exposure, and (hopefully) get more sales, please contact us about our SEO services.
GRAPHIC DESIGN
Branding begins with your logo. It sets the tone for everything that follows, so be sure to start with a great logo. Then include it and your color scheme on your website, business cards, marketing materials, social media and advertising, so all have a common, recognizable look that is unique to your business.
From business cards to vehicle branding, brochures to gift certificates, t-shirts to banners, online ads to full size trade show booths, let's make your marketing materials stand out in the crowd!
My Mission
To provide exceptional support, as I combine your requirements with my creative techniques, to bring your project to life ...
... with the minimum amount of stress for you.
(I'm the human. You're the cat.)
CONTACT ME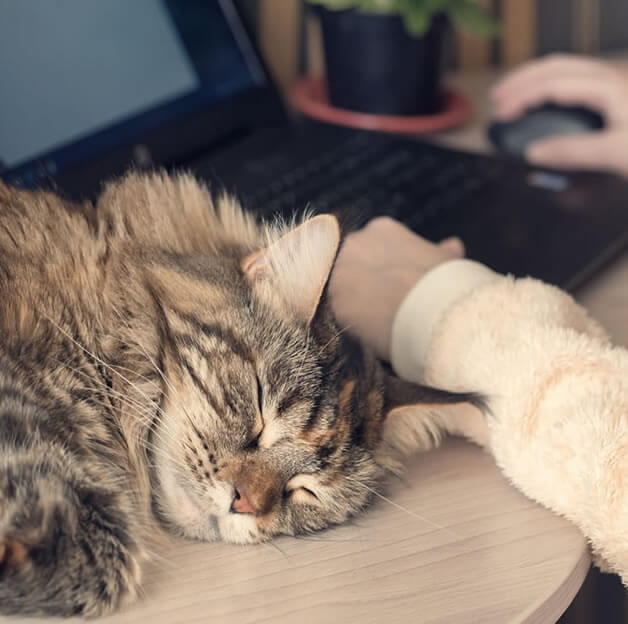 Send Me a Message
I'd love to hear from you! If you have any questions or would like a second opinion, please don't hesitate to get in touch.